Sanford is the home of, what I like to call, "Beautiful Living." Our town has wonderful restaurants, bars, and people. My goal is to highlight this amazing talent in the culinary industry and share it with the wonderful residents in this community. How? By bringing the talent directly into people's homes.
---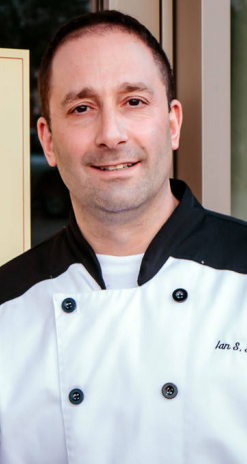 We decided to bring a fantastic chef to visit the McLeod family's residence to incorporate fine dining in their home. I envisioned a Tuscan theme and what better way to create that atmosphere than inviting Ian Schneider, owner of Chianti's Pizza and Pasta in Sanford? Chef Ian prepared a special meal for the McLeods and their buddies, Josh and Jennifer Dane, and Chris and Breri Sprysenski. I decorated the dining table with rustic pots and creative floral arrangements that were provided by the Sanford Flower Shop while Ian cooked diligently: preparing an Italian cuisine that left the McLeod's absolutely speechless. The experience was gratifying for everyone involved. This is a novel home-restaurant experience and my goal is to raise community awareness for talents local business owners possess. This initiative wouldn't have been possible without Chianti's Pizza and Pasta, and the help of Chef Ian Schneider.
Thank you, Chris and Erika McLeod for opening up your home to My Sanford Magazine!
Chianti's Pizza & Pasta
WWW.CHIANTISPIZZA.COM
685 Towne Center Blvd Sanford, FL 32771
407 . 878 . 5900
Open 11:00 a.m.–11:00 p.m.
Chianti's
Lobster Penne Alla Vodka
INGREDIENTS
Medium sized red onion diced.
6 oz. pancetta diced.
6 oz. quality vodka.
2 lbs. lobster tails removed from shell sliced into bite-sized pieces (you may substitute with shrimp or chicken).
12 oz. good quality tomato sauce.
24 oz. heavy cream.
4 oz. Parmesan cheese.
24 oz. Cooked penne salt and pepper to taste garnish: parsley & parmesan cheese.
DIRECTIONS
In a large walled skillet, sauté onions and pancetta in olive oil until golden brown.
De-glaze the pan with vodka and allow to flame.
Once flame is extinguished, add tomato sauce, heavy cream, parmesan cheese, salt and pepper.
De-glaze on low heat until sauce becomes thick. Stir often; once thickened add lobster. Be careful to not overcook the lobster.
Continue to cook until sauce is rich and thick; stir often.
In a large mixing bowl add cooked penne noodles, then place sauce on top. Mix well and garnish with parsley and parmesan cheese.