This hip and historic city of 56,000 has it all, including ideal transportation access that includes planes, trains, automobiles, and boats.
ALL ROADS LEAD TO SANFORD… whether it's Seminole Boulevard, I-4, State Road 46 or French Avenue (U.S. 17-92). When you get here, you'll feel the warm Sanford sunshine and an overall feeling of bliss, an oasis from your everyday life with a distinct Sanford appeal. This hip and historic city of 56,000 has it all, including ideal transportation access that includes planes, trains, automobiles, and boats. By airplane, Sanford is home to the Orlando Sanford International Airport, (SFB) with a record 2.5 million passengers in 2015, the third consecutive year of record number of passengers and fifth consecutive year of passenger growth. Allegiant Air offers more nonstop destinations (65) from Sanford than any airline from any airport in Central Florida. SFB is second in the State of Florida for the number of American Airlines _lights to Miami. Get your passports ready, did you know there are seasonal _lights available on Jetairfly, with service to and from Brussels, Belgium. National Airlines has nonstop service to and from San Juan, Puerto Rico, St. John's, Newfoundland & Labrador and Windsor, Ontario.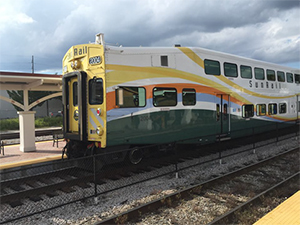 Have an inkling to travel to South America? Surinam Airways will make it easy for you with service to/from Georgetown, Guyana, and Paramaribo, Suriname. For our friends the Brits, Thomson Charter _lights from the United Kingdom is a great option and you can be the jet setter on TUI Airlines with service to and from Amsterdam. SFB… Simpler, Faster and Better. For more information visit Flysanford.com. Sanford's connectivity to two major highways, coupled with the magnetic appeal of this historic city provides for ample business and leisure opportunities.
The Amtrak AutoTrain calls Sanford home too. The station is a five-minute drive from historic downtown. Several thousand passengers take advantage of the AutoTrain. As an added perk to their passengers, made possibly by the Sanford Community Redevelopment Agency (CRA), passengers are offered free shuttle service from the Amtrak station into historic downtown Sanford (luggage and all) while waiting for their cars to load onto the train. When passengers get to Sanford's Welcome Center (230 E. 1st St.) they can store their luggage, grab a bite to eat at one of the city's popular restaurants, shop a little, visit the waterfront and take a return trip back to the station as they settle in for the trip to Lorton, VA.
The Sanford Shuttle also provides free round-trip transportation from the Sanford SunRail station between the hours of 10 a.m. – 3 p.m. Monday -Friday into downtown Sanford, coinciding with the Sanford SunRail station schedule. This is an awesome opportunity for SunRail passengers to experience Sanford too.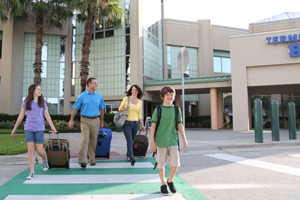 Visiting Sanford by boat is another exciting option. Sanford is a waterfront city. The majestic St. Johns River borders the northern portion of the city where you can dock your vessel at the city's free marina, mosey into historic downtown, socialize, shop, and enjoy the hipness of Sanford. Casual and breezy, non-pretentious sophistication lingers in the city of Sanford. The ambiance of the historic downtown corridor with its 1920's architecture, colorful people and intriguing arts, and cultural scene offer an alternative to the hustle and bustle. You'll love Sanford, a true "city" with its own International Airport minutes from anywhere in Central Florida. Take a drive on the designated River of Lakes Scenic Highway into Sanford. The beauty of this city will overcome you. Conversations will start, friendships will begin, and of course, delicious food and tasty drinks await you. There are so many reasons why Sanford should be your next destination! Make plans right now to visit Sanford, mid-week or on the weekends, Sanford is "open for business."
Lisa Holder is the Communications Officer for the City of Sanford, she holds a Master of Public Administration and is a Navy Veteran. Lisa hails from Miami, FL via NY and was drawn to Sanford because of the beautiful waterfront and the City's endless possibilities. "If you dream it, you can do it…" her passions include the environment, bike riding, music, animals, photography and the arts.