"We built an institution rather than a restaurant.
We strive for all of our customers to enjoy good quality meals
and time spent with incredible people."
---
The Colonial Room is a well established, home-style restaurant located in the historic downtown Sanford. "We have a new face and a new location" said the owner Michelle Simoneaux. The Colonial Room, moved into a new space just at few doors down at 105 East First Street.
Michelle admits the restaurant is her sanctuary of love. She considers her customers friends and family. She believes when a person cooks with love, it is no longer a job, rather a place where she enjoys utilizing her skills.
The Colonial Room has exceptional food at an afordable price. Michelle came to Sanford and worked for 22 years with original restaurant-owner, Bill Painter. In 2012, Bill sold the restaurant to Michelle and she has put forth a lot of dedication to make it her very own. Bill believes this city will be Michelle's forever home.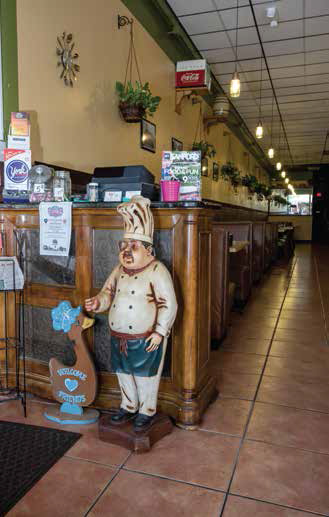 Michelle sees the changes that has occurred in Sanford over the last five years. She is committed to the city and believes the historic district is an amazing place to raise a family and later enjoy the retired lifestyle. For our readers, Michelle shared her favorite recipe:                               FRIED GREEN TOMATO BLT
Colonial Room Restaurant
WWW.COLONIALROOM.COM
105 East 1st Street
Sanford, FL 32771 | 407.323.2999
Open: Mon-Sat 6:30 AM-2:30 PM
Sunday 8:00 AM-2:00 PM