TAMMY AGNINI
This issue is all about the best of Sanford, but in all honesty, Sanford is really the best of Florida. Not too big, not too small, our city is historic and established but with room for growth. Natural wonders are within reach (springs, the beach) but we're also just a short drive to the theme parks. Sanford is Florida's best kept secret for now. Word about our special community is getting out, and for good reason. There has hardly been a time in our history as exciting as the present to watch our city flourish.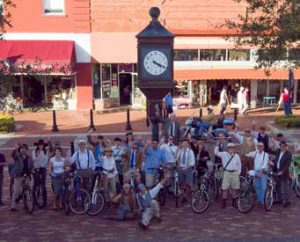 EXPERIENCE:
Central Florida's only real zoo is in Sanford, and it's ever evolving and expanding. They offer great educational programs for kids, as well as a splash pad and zip line course. Our gorgeous and huge Lake Monroe features an sphalt bike/jogging path (soon to be expanded even further). Weekend regattas and sailing events are held frequently. We even have our very own film festival – Love Your Shorts, which was born here and takes place each February on Valentine's Day weekend. Is there any time where there is NOT an event going on in Sanford? On any given day, you might see folks strolling with their dogs and sampling beers (Pints N Paws), Alive After Five (2nd Thursday of each month) a sofa race (Sofas and Suds), food trucks, or drag shows. We do it up big here during the holidays too – celebrating Mardi Gras, Oktoberfest, Christmas and Easter.
SHOP:
Sanford has developed a reputation for antiques, and while that still holds true, Boxelder and Magpies are retail trailblazers downtown, paving the way for others to take the plunge and open shop. There is a lot of retail opportunity and I feel confident it will expand with time. For now, visit one of these unique shops for home goods and gifts. The "Main Street" in our authentic and unique downtown is thriving.
LIVE:
Sanford has many eclectic and beautiful neighborhoods nestled under the oaks and palms. While the elegant and unique Historic District gets a lot of press, Georgetown, Mayfair, Wynnewood, Sanford Heights, Goldsboro and SanLanta are some of our of our other great historic downtown neighborhoods. If a newer home is more your speed, West Sanford features beautiful newer neighborhoods such as Lake Forest, the Retreat at Wekiva, and Astor Farms.
EAT AND DRINK:
Pick your poison and there's a bar to match. From dive bars to fancy, (but not stuffy) you're covered. Beer? I don't have nearly enough space to write about our burgeoning beer scene! Hollerbach's put us on the map, but our foodie scene continues to grow. Today if you're craving Greek, Italian, Seafood, sweets, or a diner experience, you're in luck. Orlando's critically-acclaimed
PHOTO CREDIT
JOHN ZAWACKI