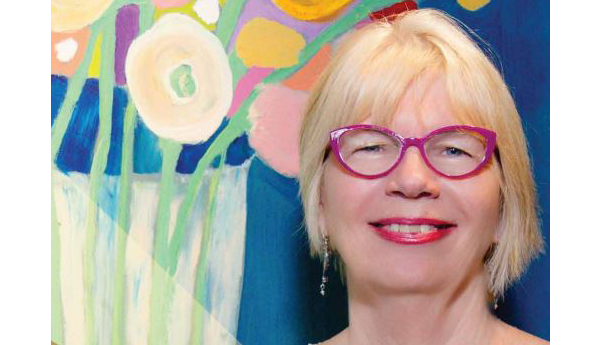 JEANINE TAYLOR
OWNER-DIRECTOR JEANINE TAYLOR ART GALLERY
PERLA B .CROSBY
YOUR CAREER AS AN EDUCATOR IN THE FIELD OF TECHNOLOGY SYSTEMS WAS VERY SUCCESSFUL. WHAT INSPIRED YOU TO OPEN AN ART GALLERY?
While I have only had my residence in Sanford for a year, I moved my gallery here 15 years ago from Winter Park. I love the old Florida feel here and the culture of a small southern community. I was born and raised in Miami, graduated from Florida State University with a degree in education and taught in the Florida public school system for 14 years. A Fortune 500 Corporation selling large networked computers and curriculum hired me as a consultant to train teachers. From there I went into sales and earned a very good living but led a very hectic life. During Florida's Sesquicentennial year, I realized not many native Floridians still resided in our state and new comers needed to find a cultural sense of place to enrich their community experiences. I developed a small business in Longwood that celebrated all things culturally in Florida and called it, "The Florida Emporium." I sold art, literature and indigenous food items like Datil Pepper Jelly (only grown around St. Augustine). From there I realized that I was enamored with southern art and culture and soon specialized in contemporary folk art from the Deep South.
WHY DID YOU CHOOSE SANFORD?
At the invitation of two of my friends and art collectors, I moved my business to the historic Hotchkiss building in downtown Sanford. I love the small town atmosphere in Sanford and the exciting growth we are experiencing.
WHAT DO YOU LIKE BEST ABOUT WORKING IN SANFORD?
I love the people. I love hearing first time visitors compliment my gallery and the Gallery on First studio artists. I enjoy being able to ride my bike to work with my French Bulldog, Frankie, in the basket behind me. Some people come into the gallery just to see Frankie. He has business cards that contain his famous title, Senior Greeter, and his working hours!
WOULD YOU DEFINE THE HISTORIC DISTRICT IN DOWNTOWN SANFORD AS A CITY WHERE ART IS APPRECIATED?
Much of the Sanford community values and appreciates art and knows how economic development can be enhanced and accelerated with culture and art.
DOES THE YOUNGER GENERATION, IN YOUR OPINION, HAVE AN APPRECIATION FOR ART?
I see Millennials developing an appreciation for original art not only from my southern folk art gallery but also the studio artists of Gallery on First that reside here with us. Young buyers are surprised to see an original piece of art can be as affordable as a framed print and appreciates in value unlike many reproductions. My gallery manager, Mary Shaw and I stress the value of collecting art rather than just buying art. There is a story behind all art. I go to great expense to bring the artist into the gallery when I host a show for them. Many of the artists are well known and it is a coup for Sanford to host them as well as my gallery. They love downtown Sanford and often comment on the friendliness within the community.
GO MAGAZINE, AIRTRAN'S INFLIGHT PUBLICATION, VOTED JEANNIE TAYLOR'S FOLK ART AS ONE OF THE "TWENTY ESSENTIAL GALLERIES IN THE COUNTRY." PLEASE, TELL US MORE ABOUT THAT!
Shortly after I moved my business to Sanford, I was chosen one of the "twenty essential galleries in the country" by AirTran's GO Inflight magazine. My fellow recipients were quite prestigious urban galleries and I was absolutely delighted to see Sanford mentioned along with galleries in New York, Miami, Los Angeles, Santa Fe, Chicago, etc.
YOU RECENTLY INTRODUCED CREATIVE ENTREPRENEURSHIP WHICH EMPHASIZES "DISCOVERING YOUR PURPOSE AND LIVING YOUR DREAMS." TELL ME MORE ABOUT THIS INTERESTING SEMINAR.
I introduced a class recently, Creative Entrepreneurship, because I want to start giving back. I had no idea where my business was going in the early days. I overcame personal doubts and walked through doors that opened for me. I have a very strong spiritual connection and everything I have was designed by someone bigger, smarter and more powerful than me. I want to encourage those that have a desire to earn their own living doing something they love in a community that embraces change. We need to fill these empty buildings in Sanford with creative small businesses.