Q. Our community loves your contribution to the city, can you tell us about your connection with Sanford?
A. I was asked by Brian Casey and Marilyn Maples from the Welcome Center to participate in Art in Public Places. This was something they thought of and were going to showcase different artists every other month in the courtyard. I was the first person they asked to participate. After a couple of months I contacted Brian and asked if they wanted the art removed. He said they haven't figured out who's next. I asked if I could swap out the art so it doesn't get stale. He agreed. I repeated this process every couple of months. After 6 to 8 months of doing this, I stopped asking and just swapped out the art thinking they would notify me when they wanted the art to come down. It's been maybe two be two and a half years of me doing this now. It's like the art has become a part of Sanford now. I don't get paid or reimbursed for it but the people there like it so I'll keep doing it. That's how I became acquainted with Sanford and the people there. The more I hung out in Sanford, the more I enjoyed it.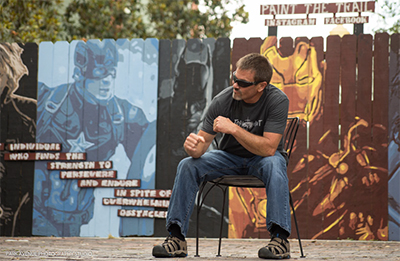 Q. Paint the Trail is a great name—how did you come up with it?
A. I created a Facebook page one day. The first question I asked myself was " What's the name of my page?"—I hadn't thought about that at all. I decided on the name "Paint the Trail." I figured I could come up with something better later on. I didn't realize I wouldn't be able to change the name. The name stuck.
Q. What does being Seminole County's 2013 Artist of the Year mean to you?
A. I'm not sure what it really means. Art is something subjective. Everyone has a different taste. The different styles of art are endless. There are so many great artists and artwork out there. The Artist of the Year Award? Yea, it was nice to receive.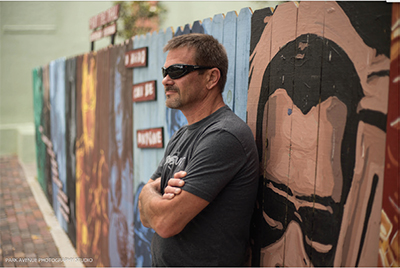 WHAT DO YOU DO WHEN YOU'RE NOT PAINTING? WHAT ARE YOU CURRENTLY WORKING ON?
"I'm always painting. There is hardly a day that goes by where I don't paint. It's like eating or breathing. I can hardly function if I don't do it. I've become obsessed. It's an addiction. I cannot stop."