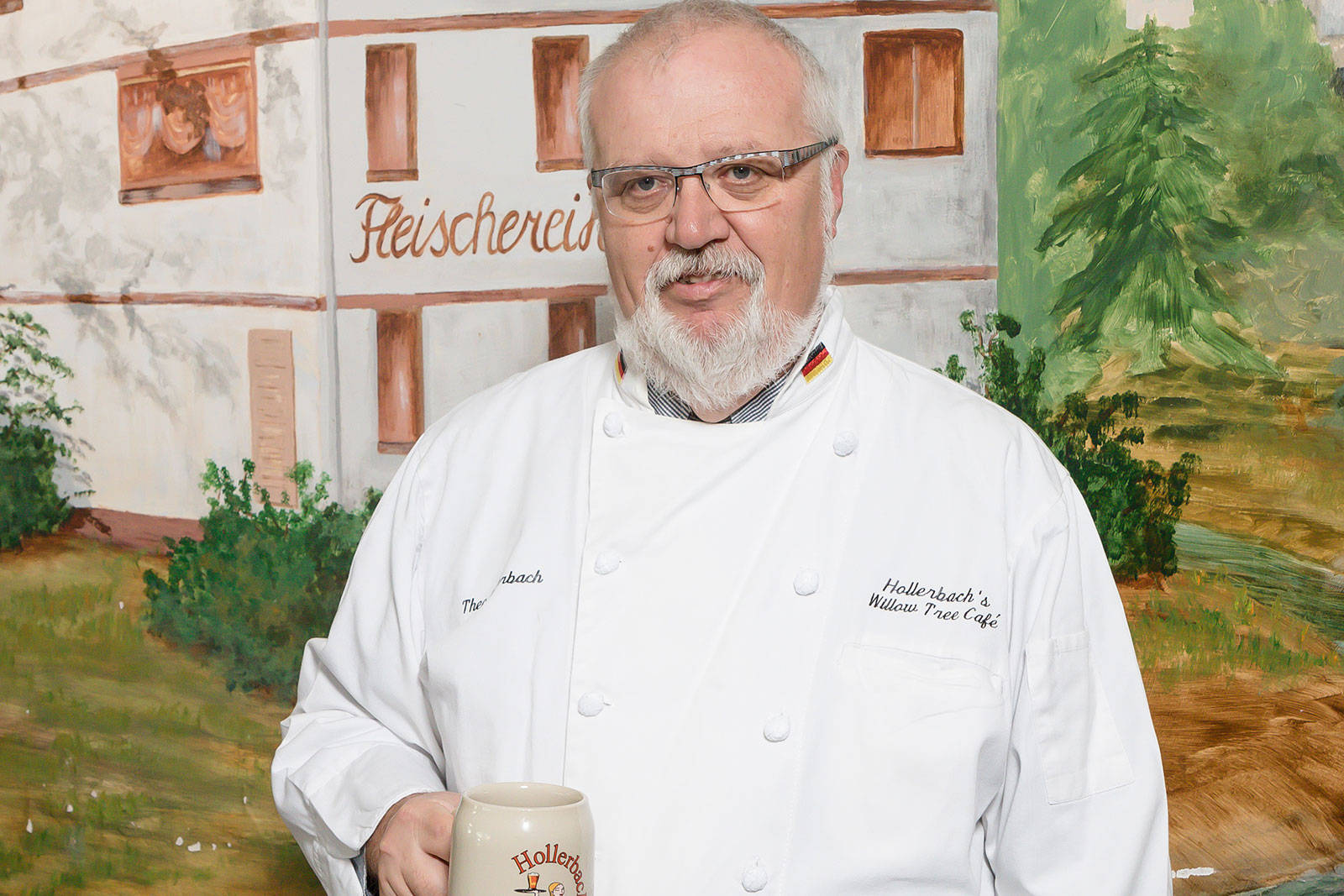 Q. HOLLERBACH'S WILLOW TREE RESTAURANT CELEBRATES ITS 15TH ANNIVERSARY THIS YEAR. DO YOU THINK YOUR BUSINESS HAS HAD AN IMPACT UPON THE DEVELOPMENT OF DOWNTOWN SANFORD?
A. The reason our family chose Sanford over other Central Florida locations is because we felt our presence would make a positive difference. Our research showed us the German community of Central Florida and Sanford were both undeserved. We felt if we provided an experience good enough for our guests to make the trip, we would succeed. Looking back we are extremely pleased to be a major contributor to the continued success and growth of the historic downtown Sanford Arts and Entertainment district.
Q. DO YOU BELIEVE SANFORD HAS OR WILL BECOME A DESTINATION?
A. I believe Sanford is a destination for residents of our state especially on the weekends. A lot of our guests tell us they are charmed with the ambiance and historic look of our downtown, because it is authentic and not developer built.
Q. WHAT INFLUENCED YOUR DECISION TO OPEN A RESTAURANT AND WHY SANFORD?
A. Linda and I have lived in the Orlando area since the 1970's and she worked for a while in downtown Sanford prior to us opening the restaurant. We chose Sanford because there was foot traffic from the courthouse and government offices downtown. We got a phenomenal deal on the Willow Tree Cafe from the previous owners. Of course, good timing helped too!
Q. WHAT'S YOUR FAVORITE MEMORY AS A CHILD?
A. Summers in my hometown of Kyllburg, working with my family in our butcher shop and reuniting with friends.

Q. HOW DO YOU SPEND YOUR FREE TIME ASSUMING THAT YOU HAVE THAT LUXURY?
A. Well the first 10 years Linda and I did not have very much free time. However, in the last couple of years our managers and our daughter have taken over a lot of the daily responsibilities. Now Linda can pursue her passion of creating art and I am an avid bicyclist. We like taking road trips to learn how other restaurants and markets take care of their guests and see if we can apply their successful tactics in our businesses.
Q. WHAT SPECIFIC DISH DO YOU ENJOY COOKING FOR PLEASURE?
A. I am a big fan of using my Schwenker grill (a BBQ with a swinging grill area) to make Spiessbraten (thin pork steaks marinated with herbs and spices).
Q. AS A CHILD, YOU WANTED TO BE…
A. I wanted to be a city manager and build the town of my dreams.
Q. WHY DID YOU CHOOSE SANFORD AS A PLACE TO LIVE?
A. It's convenient and we live 10 blocks from where we work. We enjoy our neighbors and we found the house we always wanted. We can ride our bikes to work. I normally only drive my car two days a week. The city is close to water, trails, shopping and is surrounded by people who care about their neighbors.
Q. WHAT IS FAMILY FOR YOU?
A. Like most people, our extended family is diverse and of different opinions and ideologies. I focus on staying connected, being supportive and building bridges to connect each other. I feel it is most important that actions and intentions make families and communities better.
Q. I KNOW THAT YOU WERE BORN IN KYLLBURG, GERMANY AND THEN MIGRATED TO THIS COUNTRY. DO YOU EVER HAVE A LONGING FOR THE MOTHERLAND?

A. We Germans actually say fatherland. Having spent over 40 years in Florida, I think of Kyllburg as the place of my childhood and Sanford as my home.
Q. IS YOUR RESTAURANT/MARKET REFLECTIVE OF YOUR GERMAN HERITAGE?
A. Yes, very much so. My grandmother and Aunt influenced me early on about the importance of creating gemuetlichkeit (a sense of well-being one feels when enjoying good food and drink among friends and family) while working in our butcher shop. Also, when Linda and I worked together at the Bavarian Schnitzel Haus on Church Street, we experienced how much joy it was to provide guests a good German meal.
Q. ARE YOUR RECIPES BASED UPON THOSE OF YOUR FAMILY AND/OR ANCESTORS?
A. Most of our recipes are based on traditional German comfort foods from the 1980's. My mother and aunt shared a lot of their recipes with us and then we worked with our outstanding chefs Josh and Patrick to make them suitable for use in our restaurant.
Q. THE FACT THAT THE WILLOW TREE HAS BEEN HONORED AS THE TOP GERMAN RESTAURANT IN THE AREA FOR YEARS IN A ROW MUST BE A SOURCE OF PRIDE FOR YOU AND YOUR FAMILY. MAY I ASSUME THAT YOU VIEW THIS AS A WIN-WIN FOR THE CITY OF SANFORD AS WELL?
A. I always tell my staff it is like a three legged stool: we need the staff, the vendors and the guests to make it all work. My favorite compliment is when I hear "good as usual." Our goal when we started was to exceed expectations, return a profit and create a benefit for everyone involved, three simple rules which have governed my life. As long as I can say yes to all three rules, we will continue.
Back of Stage