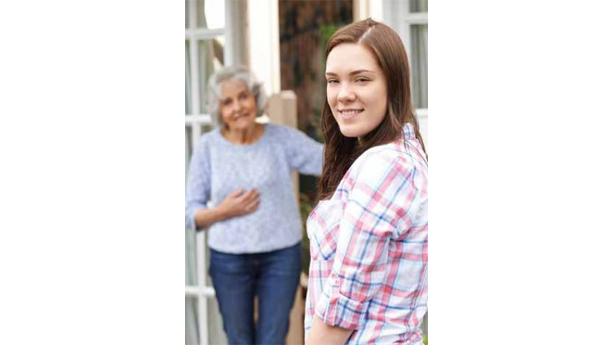 6 WAYS to be a BETTER NEIGHBOR
 LINDA BUSCH
When you see them. Don't forget to smile! SAY "HELLO" TO YOUR NEIGHBORS.
MAKE NEW NEIGHBORS FEEL WELCOME Start a conversation about the finest pizza place in town or inform them of trash pick-up dates and times.
GET TO KNOW YOUR NEIGHBORS what they do for a living and what their daily routine consist of. Similarly, give them information about your family life. You can avoid possible conflicts by discussing what could be annoying to each other, such as determining what time works best to mow the lawn.
Coming from various sources such as music, machines, BE MINDFUL OF NOISES household appliances, TVs, and small kids screaming and jumping around. This is especially important if you share partition walls with your neighbors. Show consideration by telling your neighbords ahead of time if you plan to have a party. If you enjoy spending time with your neighbors, invite them to join the party.
REMEMBER THAT NOT EVERYBODYIS ANIMAL FRIENDLY which could diminish their level of tolerance towards your pets. Keep your dog on a leash and be sure to clean up after your pets. If you are unable to control barking or whining, seek expert advice.
Do not block or inconvenience others when parking your DO NOT INCONVENIENCE OTHERS vehicle. Avoid slamming doors or shining headlights into your neighbor's windows. If you miss collection, bring it back onto your property. Keep your trash area clean and debris free. Above all, keep the channels of communication open with your neighbors. Remind them they should feel comfortable approaching you if you happen to be doing anything that may be disturbing to them. Be a better neighbors by applying the golden rule: Treat others as you would like to be treated.