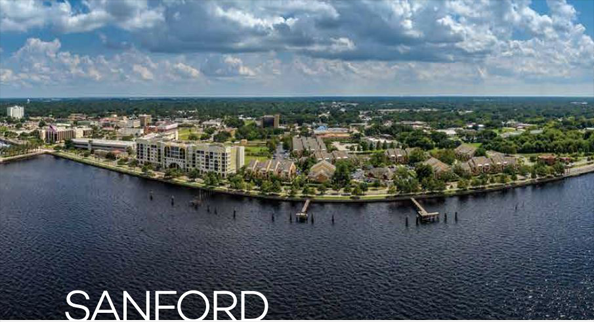 LISA HOLDER
THERE IS AN OVERALL UPSWING IN ECONOMIC DEVELOPMENT
and Sanford has become a major player in the region. During the past 6 months, the economic activity has tripled in Sanford. Through the direction of Bob Turk, the City's Economic Development Director and Executive Director of the Sanford Community Redevelopment Agency (CRA), development and real estate inquiries are booming. Bob meets with at least 2 developers and real estate professionals every week. The Sanford CRA was just about to sunset after 15 years of incredible results (just look around downtown), but after much due diligence by City staff, the private sector, and the CRA Board members, all are most delighted that the CRA has been extended by Seminole County for another 10 years. There is more work to be done and plenty of opportunity in Sanford. The sky is the limit. Currently, there are over $34M of planned downtown Sanford improvements with $3M focused on new development on Sanford Avenue alone. Last year, Sanford Avenue was recently revitalized with a $2.4 million streetscape, a well-made investment for residents, visitors, and current and future business owners. The revitalization of Sanford Avenue is a direct result of the development that is being proposed in downtown Sanford. People and business are investing in this great historic city. Hungry for choices? Sanford residents and visitors will soon see four new restaurants opening in downtown within the next several months. In addition, there are four new brew businesses on Sanford Avenue that have opened or are currently on the radar to open. 113 S. Palmetto Avenue has been purchased and will be soon redeveloped. This includes the historic 19th century county jail site that will be restored to its original luster. Another added gem to the crown of our downtown.
You may have noticed the old strip shopping center at 312 East Commercial has been demolished. This site will now be part of the downtown Sanford Catalyst Site. A request for qualifications (RFQ) for the downtown Sanford Catalyst Site has been received from three major development teams. The Catalyst Site will include housing, retail, restaurants, parking, and a hotel site. Bob Turk is also working on the recruitment of several new manufacturing companies. Bob believes the city is very enthusiastic about all the new potential opportunities for increased development in downtown and throughout Sanford overall. The development projects and new businesses will bring much-needed economic impact for residents, visitors, and businesses. Over 200 new jobs will be created in the near future.
The City is a business and transportation hub for Central Florida which includes: the Orlando Sanford International Airport, Amtrak AutoTrain, Interstate 4, SunRail, St. John's River, and CSX Railroad.
Sanford continues to offer a superior mix of economic development opportunities to new and existing businesses, either in the retail or in the industrial sectors. Through marketing and outreach efforts, the city continues to promote Sanford as a profitable place to open new businesses. The Economic Development office also provides assistance with Job Growth Incentive Funds (JGI), Qualified Target Industry Tax Refunds (QTI), Capital Investment Tax Credit (CITC) and High Impact Performance Incentive Grants (HIPI). Being mindful of this city's genuine and rich history, Sanford is on the cusp of greatness. The land, opportunity, and professional expertise of city staff is taking Sanford to the next level. Hop on board, there is no turning back now.