Beautiful days with bright sunshine & crisp blue skies are the perfect backdrop to visit, enjoy and relax at one of the many public spaces the City of Sanford provides.
PARK SPACES ARE BUILT TO ENRICH THE LIVES OF ALL.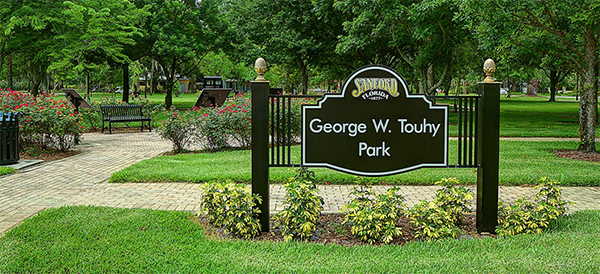 Parks offer an enhanced quality of life where our residents and visitors can enjoy their cherished free time with friends and family. Parks are gathering places where happy memories are made, children laugh and make friends with other children, and get physical exercise. Parks are essential to a thriving community. Simply enjoying the outdoors and the delightfulness only an afternoon of fresh air can provide, a day at the park ultimately results in the whole family experiencing a healthy mind, body and soul.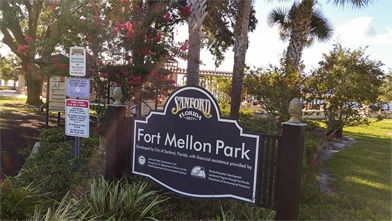 The City's Public Works Parks and Grounds Operations Division maintains over 260 acres of land to include 29 park sites and 2 trail systems. Several parks include amenities and pavilion facilities rentals.
The City's premiere park is Ft Mellon Park located in the heart of downtown Sanford, 601 E. 1st St. In the next year this park will showcase a new amphitheater to be completed summer of 2017 that will offer the opportunity for many more arts and cultural events for the public to enjoy. The park currently boasts of Central Florida's largest interactive water feature, called the "Splash Pad," a large age appropriate playground, 8 pavilions, restroom facilities, walking trails and gorgeous scenic views of Sanford's Riverwalk and Lake Monroe.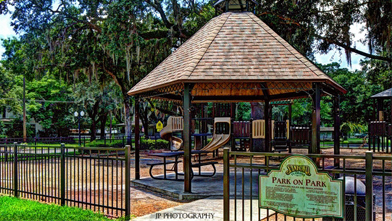 Other feature parks include the magnificent Veteran's Memorial Park, 110 E. Seminole Blvd. This park's exhilarating view, jutting out into Lake Monroe, lined with majestic palms, is sure to capture your attention. After visiting this park, you'll be proud to be an American. It's honor will allure you as you walk about the park learning of America's veterans and military history. Commemorative bricks are available for purchase to recognize your loved service member/Veteran.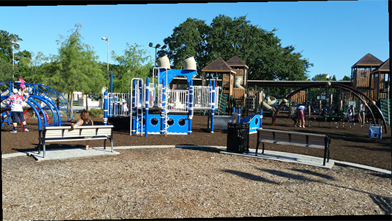 Sanford's FREE Marina Day Slips are located adjacent to Veterans Memorial Park. Cruise in, dock your boat and walk along the Riverwalk and/or visit the Historic Downtown shops and restaurants. George Touhy Park located in Sanford's residential historic district, 601 Elm Avenue, has an incredible tree canopy with bi-lingual interactive splendid brick walkways too or just relax on a park bench and watch the world go-by.
Paw Park on 17-92 and 4th Street is one of Seminole County's first dog parks and is currently being redesigned and will re-open in the month of August. Derby Park (2199 Oregon Avenue) holds up to ten nationally sponsored Soap Box Derby races per year (a great sport for the whole family to enjoy and participate in).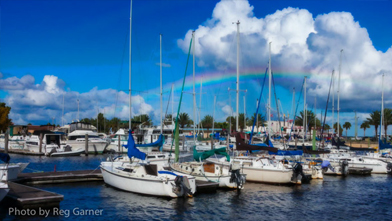 Other City Park amenities include tennis, pickle ball, basketball or racquetball. Our latest renovation, Coastline Park, has new pavilions, restrooms, a walking trail, playground, tennis, basketball and two fountains to view and enjoy. Not to mention the amazing photogenic backgrounds, Sanford's parks are always camera-ready. These outdoor spaces also provide recreation, relaxation, health and wellness and enhance the quality of life for all who live here and visit the City of Sanford.