BY CLAUDIA MUNDLOS
By Benevolence Photography
Living in Sanford comes with a lot of benefits. These days, Sanford has exceeded its previous "up and coming" status. Perhaps this is the reason why Sanfordites rarely leave "the bubble." We believe that Sanford's undeniably high quality of life makes its residents collectively happier than residents of other Central Florida cities, so let's take a look at the complete package that is Sanford!
STAYING ACTIVE AND HEALTHY IS A BREEZE Staying active and healthy in Sanford is easy as can be. Take a walk on the Riverwalk (which will soon be close to 5 miles long!), swim at the Larry A. Dale Aquatic Center, or bike on the Seminole Wekiva Trail! And for the more ambitious runners among us, just sign up for one of the many 5Ks happening in Sanford throughout the year. The Seminole County Sports Complex and Lake Sylvan Park are other places to stay fit — not to mention the numerous gyms popping up in the area. How about a round of golf on a historic golf course? We're looking at you, Mayfair Country Club!
Looking to live a balanced life close to nature? Go hiking through the Black Bear Wilderness area, kayaking on the Wekiva River at Katie's Landing, or sailing and fishing on Lake Monroe. Lots of parks and playgrounds and of course, the splash pad at Fort Mellon Park keep the little ones in motion too! And there's also Paw Park for your furry babies' wellbeing.
EXCELLENT EDUCATION Sanford is also fortunate to be home to some of the best schools in the entire state of Florida! All of the highly ranked schools are often the reason why people start their home search in Sanford. In addition to that, Sanford is also home to Seminole State College, which offers bachelor's degrees, two-year college-credit degrees (A.A., A.S., A.A.S.) and specialized career certificates as well as continuing professional education.
COMPLETE CONVENIENCE Everything is close by here in Sanford, and most of the time, traffic is far less stressful than in other parts of the county. The mall area offers a plethora of stores for shopping as well as different dining options – from big chain restaurants to mom and pop diners. Everything you could possibly need is no more than a fifteen-minute drive away.
BORING DOESN'T EXIST Sanford is a very vibrant city where a lot of things are happening. Here, we spell leisure with a capital L! When it comes to nightlife, dining, culture and entertaining, Sanford's historic downtown is where it's at! Within walking distance, there are two theaters, four breweries, plenty of craft beer and wine bars and fabulous restaurants that also offer live entertainment on most days. Food Tours, ghost tours, escape rooms, parties on bikes (Limocycle anyone?), Sanford offers a wide array of unique activities for young and old. And don't even get us started on all the top-notch events held on the brick streets of this beautiful town year-round. From Mardi Gras to Oktoberfest, from film festivals to craft beer festivals, from couch races to porch concerts, there truly is something happening for everyone!
When it comes to fun, outdoor family activities, Sanford has got you covered too! A visit to the zoo is always exciting. Many locals hold an annual pass. There is also a zip lining course just outside the zoo premises.
A LIFESTYLE FOR EVERYONE — SPOTLIGHT: HISTORIC DISTRICT In previous articles, we covered the different lifestyles that can be lived in Sanford. From equestrian estates to guard gated suburban neighborhoods, a soon to be completed 55+ retirement community or waterfront condos, you will be able to find it all in Sanford.
One of the most popular lifestyles and one that simply cannot be replicated in many areas of Central Florida is the urban lifestyle that Sanford's Residential Historic District offers. The convenience of being able to walk to where you "play" is an amazing benefit of living there. Not being dependent on a car creates a certain freedom that will most definitely add to your quality of life. Instead, walk, bike or golf cart to your destination. Be sure to join the Sanford Golf Cart Gurus and participate in Sanford's Critical Mass, a popular monthly community bike ride.
COMMUNITY LOVE Last but not least, life in this small, urban paradise also offers what it's all about: community! Whether you are an "insider" or come from the other side of town, you will rarely find a place that is more welcoming or tolerant than this little district within Sanford. If this doesn't create happiness, I don't know what will!
SANFORD HAS CONNECTIONS If you ever do want to leave this beautiful bubble though, rest assured that Sanford has the best connections! There's easy access to I-4, 417 and the soon to be completed Wekiva Parkway (429) to bring you quickly to work, theme parks or beaches. As a commuter, you could also take advantage of the Sunrail. And for long distance travel? Just catch a flight from Sanford's ever- growing International Airport where Allegiant currently flies to over 70 cities in the US.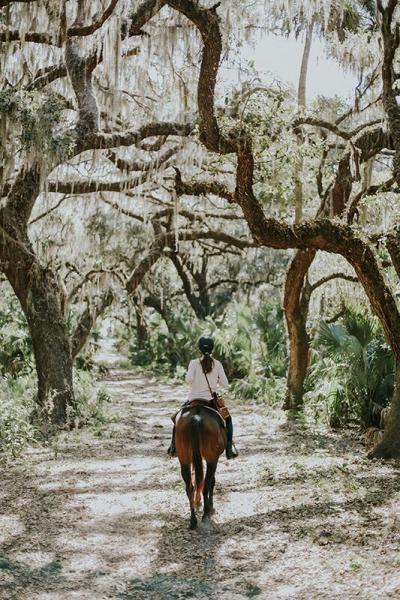 Claudia Mundlos fell head over heels with Sanford the day she moved here from Germany in 2004. As a local Realtor, she started actively selling the city she loves in 2006, one home at a time. Claudia's husband and business partner, José, have helped hundreds of families accomplish their real estate dreams. Her love for Sanford also shines through on her popular community-focused blog called Sanford365.com where she shares all things, Sanford, including events and things to do. The free Sanford365 mobile app has become a staple for local residents. Claudia is devoted to her family and friends as well. You can catch her around town and on social media showing us how #sanfording is done. Be sure to say hello!