Photo by Kelly Clore with kabiki photography
There's a great force in Sanford. With cat-eye shaped glasses and a kitty purse, she walks the First Street blocks displaying great pride, experience, and empowerment. She is Christina Hollerbach-Simmons — the heiress to Hollerbach's Willow Tree, our city's beloved German restaurant.
In addition to running one of the city's most popular restaurants, she's also the Chief
Operating Officer of Magnolia Square Market, President of Sanford Main Street, President of Hollerbach's Has Heart, President of the Wayne Densch Performing Arts Center, the first Vice President of the Sanford Woman's Club, chairperson for Film Sanford, organizer for Love Your Shorts — oh and Owner-Operator of Hollerbach's Outfitters… Shall we go on?
When you think of Sanford and the Willow Tree Café, you think of Christina and her eye-narrowing, feline-like smile that makes her cheeks
turn as red as the restaurant's signature rotkohl sweet cabbage. It's no surprise that she will be taking over the family restaurant in 2020, but don't think she hasn't worked hard for this opportunity. From dishwasher to Chief Operating Officer, Christina has been primed for this position throughout her life. When she was 14 years old, her parents, Theo and Linda Hollerbach, purchased the business from a woman who believed that a "German restaurant will not work in this city because Sanford is not ready for it." In reality, this town was more than ready for the Hollerbach's.
"It's a choice, not an expectation," Christina says of her upcoming role. "I did try other things, but I know this is what I love to do… I am proud to be an advocate for the hospitality industry. It has to be a choice. It's every day for forever. There is no difference between work and Christina. They are the same."
Christina and I sat outside of Celery City Craft as she drank a dark ale from Baltimore and tells me the story of her first day as the front-of-house manager. It was a Tuesday lunch shift. They were slammed, the internet went down, they couldn't process credit cards, and the phones were ringing off the hook. Two of her regulars — who she calls the "Golden Girls" — came to support her during her first supervising shift. When an angry customer screamed in Christina's face, the Golden Girls, two 60 year old ladies from New Jersey, came to her defense. "And eventually the
shift ended, chairs went up, and I thought, if I could handle today, I could handle anything."
Now, she tries to live her life with no fear. A "healthy balance between Mom and Dad," she is a risk-taker and a motherly figure. Despite her parents stepping away from the business, they will always be her advisors, and she will always seek their guidance. Her strength comes from working with the executive team for a decade — a group of people she calls her family. What do they call her? Boss lady. This family knows how to take care of each other without even saying there is anything wrong. Something that was demonstrated in her first "holy crap" moment at Oktoberfest two years ago. The day was gradual, busy but normal.
"All of a sudden the weather got nice and then we hit a peak point, where there was a crap ton of people here where I'm like, 'This isn't someone else's event. This is just us. These people are just here for us.' And I'm like, Oh God." She laughed. "I hid in my office for a second. These people are all expecting me to make a decision or do something, and it really freaked me out." But of course, she followed up with, "But it was fine!" She lifted her glasses to wipe her tears, then laughed it off. "It's scary when you realize it's 15,000 people because of something you did. It's crazy."
To destress after moments like this, she spends her days off either alone at home, getting lots of massages at Massage Garage, or at the beach with friends. The phone goes off and Christina goes off. She and her husband, Matthew Simmons, are the proud parents of seven cats and are tied together by their love for kitties, British TV, and good music. "It's about knowing yourself, your limits, and where that balance lies. My calendar is my best friend in the whole wide world."
To prepare for her new role and the restaurant's journey forward, the space is undergoing major renovations. They are expanding the kitchen and adding a rooftop bar, a project they intend to complete before the new year. Though she has her hands in many projects across our little town, there is no place she'd rather be than the home of gemütlichkeit, which she describes on her website as "evoking cozy familiarity of drinking and dining with close friends."
"I love making people happy. I love that there's nowhere else they could get these things, and the looks on people's faces when you're able to provide that is awesome… I really love gemütlichkeit. I know that's super cheesy," she said. "I thrive on knowing what I do in this moment gives me instant gratification that is successful. I need to know that what I am doing right now is working."
Growing from seven employees to a hundred employees, the only part she finds frightening is having staff rely on her for income, that the decisions she makes can affect that many households. They say restaurants fail every three years. However, with the increase in sales every year, she tries to lead her life with positivity.
"There are a lot of things I can't control, some natural disaster, some political things. I just want to make sure that my employees are taken care of, and we can continue providing gemütlichkeit," she said.
She quoted a piece of advice from her father's mentor, John Wooden. He "talks about how for success you have to have goals, but if you spend too much time trying to reach them instead of focusing on the details, you're gonna lose that goal. Our main goal is guest experience and gemütlichkeit. Focus on that and it all falls in place," she said. "It's Theo's three rules: exceeding expectations, creating a benefit for all involved, and returning a profit. If all of those are achieved, you're fine."
On her blog, hollerbachsimmons.com, her philosophy is embedded in everything she does. "Work hard, be nice," she said. "That boils me down. You can get so much accomplished by being kind to people, trying your best, and working hard. That's all there is to it."
How does she have time for everything she does? Somewhere in between being a dishwasher and CEO, there was a time when Christina wanted to pursue theater at Rollins College. Although she never wanted to be a professional actor, she lives and breathes theater. She credits all of her managerial and life skills to show business. Even if you don't want to be an actor, you learn valuable lessons, such as public speaking, using tools and stage craft, managing a group of people, adhering to a schedule, and being on time — skills you can apply to any industry. Serving is like performing on a stage, she says.
Now that Theo is stepping down, Christina is stepping towards the spotlight where she was always destined to be. With this promotion comes more distinction and recognition. For her cover story interviews and images, she wishes she could be on her couch at home, wearing high tea garments, teacup in hand, and cats all around her — in typical Christina fashion.
Sometimes she wonders what it's like to be outside of Sanford, beyond the historic architecture, away from the small town shops, and across the 417. But for now, her life is dedicated to improving Celery City. All the work she's done — from the theater to Sanford MainStreet — circles back to her goal of making Sanford an arts and entertainment destination. She wishes there was more connectivity with the town trolley, but for now she's added it to her ever-growing agenda.
Christina sips her last drop of ale and reveals that she has been named one of Orlando Business Journal's 40 Under 40 Class of 2019. She is just one of two Sanfordites and the only person in hospitality to make the list. Her entrance song? Gemütlichkeit, of course.
So, is Sanford ready for Christina? We've been ready. Take the stage
Nikki is a writer who enjoys telling stories that connect the community and spark emotion. In her spare time, she loves eating vegan food and sharing it to her Instagram, @OrlandoVegans, and spending time with animals.
photo byKelly Clore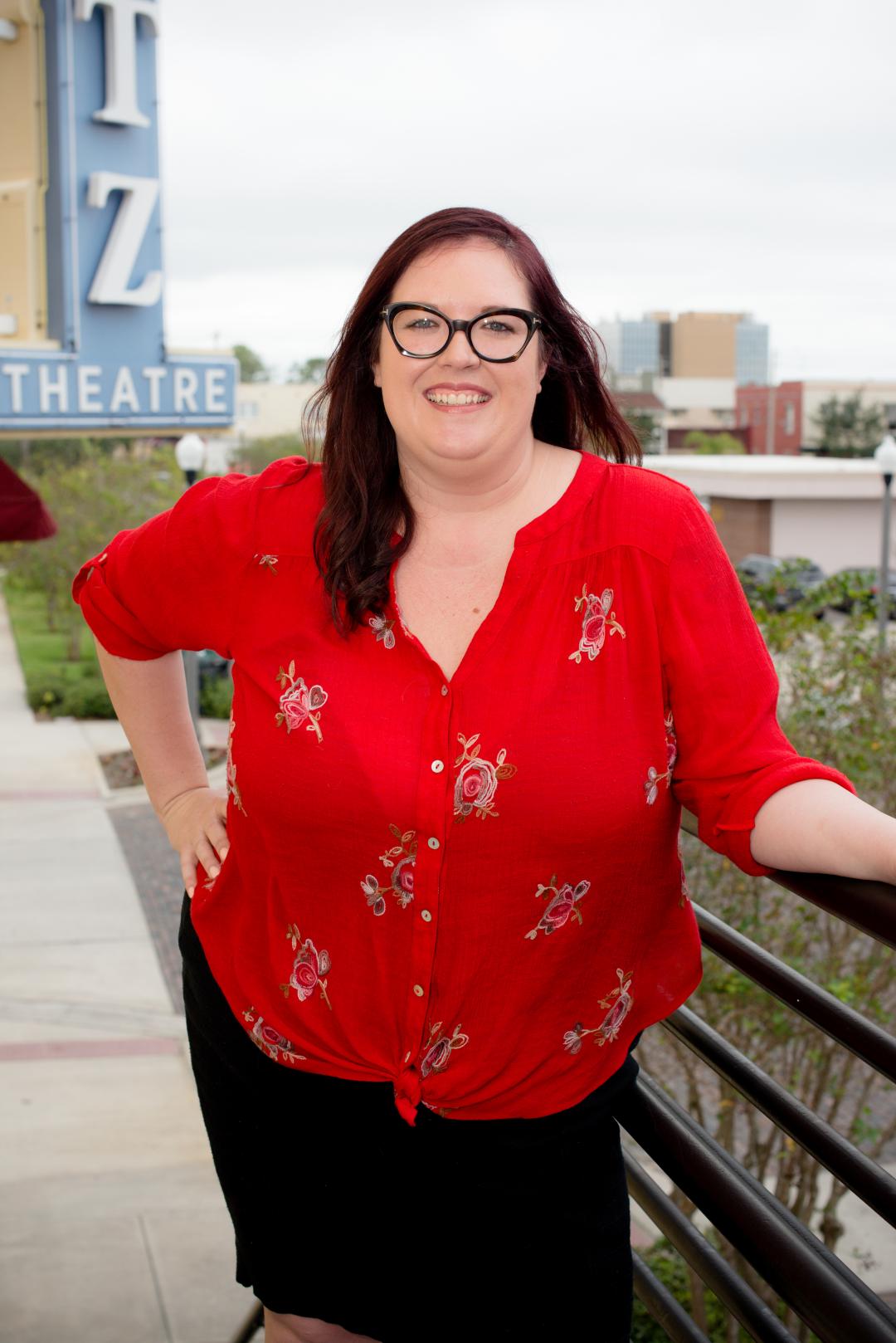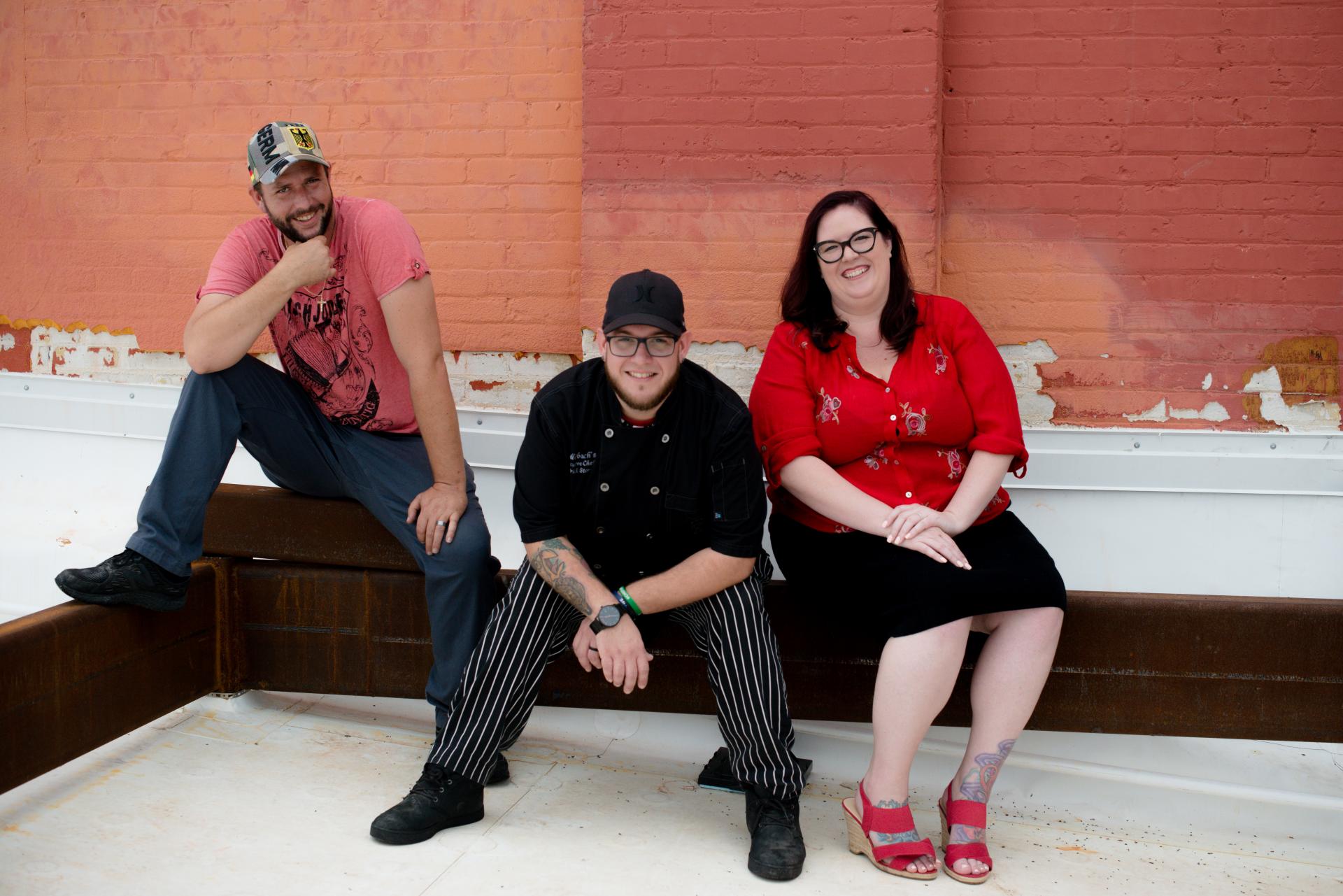 Executive Team 2020: (l-r) Josh Smith, Executive Manager; Patrick Story, Executive Chef; Christina Hollerbach, COO