by BY SAMANTHA MONTGOMERY
Sanford is a unique place to live in that while it is ever evolving, some things remain constant. When My Sanford Magazine sat down to chat with the owners of The Colonial Room, The Old Jailhouse, The Original Christo's, The Tennessee Truffle and Tuffy's Bottle Shop and Lounge, the one common thread that ran through each conversation was community.
Each restaurant saw themselves as a part of the Sanford family. They aren't in competition with one another, because they all work together to make the neighborhood the best it can be for fellow business owners, residents living in the area and the people who visit—and fall in love with—our charming neighborhood.
Another interesting thing to note is that all the owners are humble and grateful to be working and living in such a gorgeous neighborhood that is rich in history and culture. During the conversations for this story, the businesses all shared a common interest in making their patrons feel comfortable and welcomed in their establishments.
The success of downtown Sanford is not dependent on one-single element, but rather the gathering of like-minded people who want to make the place they call home, better than ever.
COLONIAL ROOM RESTAURANT – Owner Michelle Simoneaux
By Samantha Montgomery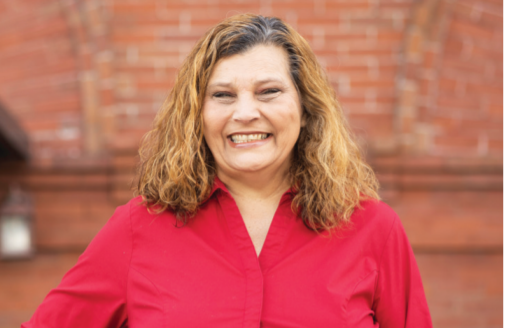 Photo by: ANDREW VAN TILBORGH, CHARMING SANFORD @ANDREWVT @CHARMINGSANFORD
Colonial Restaurant has the distinguished honor of being one of the oldest restaurants in Sanford. OwnerMichelle Simoneaux started out as a server and remained working there for 25 years. When she decided to buy the restaurant, she knew she wanted to do two things: keep quality and consistency at the forefront of her business.
Michelle kept many popular items on the menu that her regular guests have come to know and enjoy and added a few new selections that would bring in another generation of faithful patrons. With the addition of a kids' menu and the fried- green tomato BLT, her instincts proved right. She has maintained her original fan base and attracted a new following. One great piece of advice that she adhered to was from the original owner, Mr. Bill: never use processed food. That is why you will only find items such as fresh-baked turkey and ham on the menu.
In addition to serving delicious comfort food, Michelle says, "I love getting out and socializing with customers. My heart is really in it. I feel that I am genuine." When she was contemplating purchasing the restaurant, she believed that whoever boughtthe Colonial Restaurant would need to have the same love for it as she did. "Our customers are like family. We have so many regulars that it needed to be someone who loved the restaurant and loved Sanford."
Michelle does not plan on slowing down anytime soon: "We are beyond thrilled to open the Colonial Room Country Store." This will be adjacent to the restaurant and will feature unique items such as candy by the pound, old-fashioned Coca-Cola, ice cream and an array of homemade items from local artists, photographers and entrepreneurs.
The entire endeavor is a family affair, with her daughter Emeli managing the restaurant and her daughter Noel managing the Country Store, which is slated to open the first of October.Michelle's 10-year-old granddaughter Oliviais excited to be part of the family business, too.She will be managing a section of the Country Store.Be sure to stop in and say hello to the family on your next visit to downtown Sanford.
Colonial Room Restaurant • 105 E. 1st Street • Sanford,FL 32771 • 407-323-2999 • colonialroomsanford.com
The Old Jailhouse-Mother, Son and Owners Maria and Alex Sirica
By Samantha Montgomery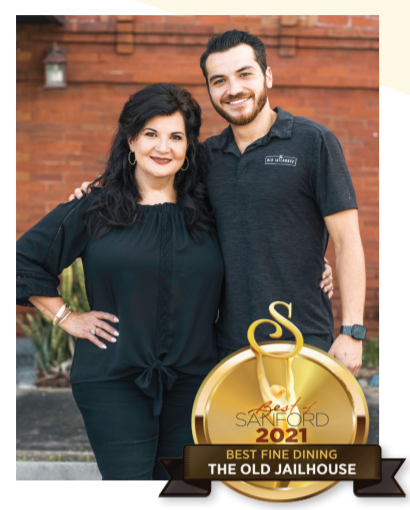 Photo by: ANDREW VAN TILBORGH, CHARMING SANFORD @ANDREWVT @CHARMINGSANFORD
The Sirica family has a long history in the restaurant industry with over 32 years' experience, and The Old Jailhouse owner Alex Sirica is fascinated with history, so it was only natural that their path led to combining actual history with a unique dining experience.
Alex says, "My dad wanted to open a restaurant. I wanted to open a bar. He said to me, 'You have your idea, and I have mine. If you handle the bar, I'll handle the food.'" And so, the family began the huge undertaking of renovating The Old Jailhouse all the while seeking expert advice and guidance from The Historical Society. "I not only wanted to bring people to Sanford butalso wanted them to learn what it was." We found artifacts such as nails, bottles, chains and even a complete shackle set, which is on display in the restaurant. We uncovered advertisements from the late 1800s, which was very exciting." Alex's mother Maria and Aunt Ana Yebba had a big part in designing the restaurant as well. His mother wanted a polished-casual feel, and so every detail became important. From the chandeliers to the barstools, the women worked tirelessly to create the perfect atmosphere.
Creating the menu and bar was a labor of love, too. Alex says, "We take pride in our scratch cooking. We hired chef Barry and sous chef Ryan, and they created a chef-inspired menu with seasonal items. We didn't want to have the same menu. Our bar manager Nick has a passion for craft cocktails and spirits. He even makes his own gin. The family followed their passion and instincts, and it bode well for them as they have won multiple awards and kudos from food critic Scott Joseph, Orlando Magazine, and the City of Sanford. Their bar managerNick just won the Best Bartender Award from My Sanford Magazine.
Alex's momentum just keeps going with aspirations of renting the Old Fire Station next door: "I would like to create a sports bar with classic food like burgers, wings, tacos and vegetarian options. I would like it to have a family-friendly atmosphere while honoring our firefighters in the community and history."
When asked what makes his business so successful, he humbly says, "Our employees are our family and family take care of each other."
The Old Jailhouse Kitchen & Spirits • 113 S. Palmetto Avenue • Sanford,FL 32771 • 407-548-6964 • theoldjailhousesanford.com
The Original Christo's – Brothers and Owners Chris and Terry Cranias
By Samantha Montgomery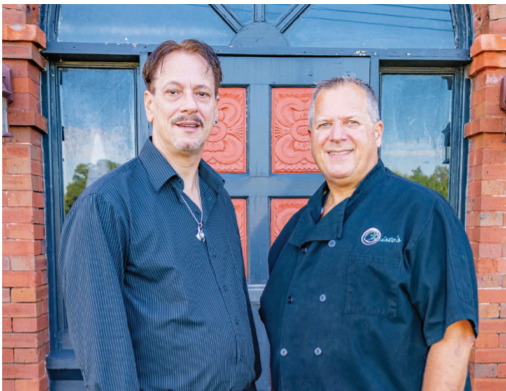 Photo by: ANDREW VAN TILBORGH, CHARMING SANFORD @ANDREWVT @CHARMINGSANFORD
The Cranias family is no stranger to the restaurant industry. Chris and Terry's father started their first restaurant, Christo's Coney Island, in the heart of Detroit, with a capacity for 35 guests. The family has been in Sanford since 1984, and for 37 years they have enjoyed operating their family businesses in Downtown Sanford. Chris fondly remembers his initiation into the restaurant industry.
"When I waseight years old, my dad pulled out an old-wooden milk crate and set it down in front of the dishwasher.He said, 'Welcome to the restaurant.'" From that point forward, both Chris and Terry were eager to assist their father and the rest of the family with the remodel of the building.
This early involvement launched a long and successful career of making people happy with made-from-scratch cooking. The brothers' goal for each guest who walks through their door at The Original Christo's is to give them an "experience unlike the franchises." Their passion for providing exemplary customer service coupled with high-quality ingredients has proved to be a winning combination. Terry stays busy managing the business and running the day-to-day operations in addition to making the soups and sauces from scratch.
The siblings thought they found their niche by becoming the neighborhood restaurant that locals found cozy and charming, but when they sat down with a consultant, they discovered they were so much more. "We realized we had become a destination restaurant for all of central Florida where people said, 'Where the heck has this place been all these years?'"
Happy to have chosen Sanford as their location to build their business Chris says, "We have a lot going for us with all that Sanford has done and keeps doing. The trend of residents' moving back to downtown is bringing more people into the area, and that is good for businesses." Many businesses in the area are feeling the positive effects of living and working in Sanford. With the Sanford International Airport, a beautiful lakefront, the trolley and Sun Rail, the area just keeps growing and getting better.
With a versatile menu featuring pizza made with homemade dough, slow-cooked ribs, burgers and Greek salads, there is something for everyone to enjoy. In addition to delicious food, Chrisand Terry credit their restaurant's success with hard-working employees, "We have longevity with our employees who we treat like family."
The Original Christo's • 107 W. 1st Street • Sanford, FL 32771 • 407-320-0799 • christossanford.com
The Tennessee Truffle – Owner Nat Russell
By Samantha Montgomery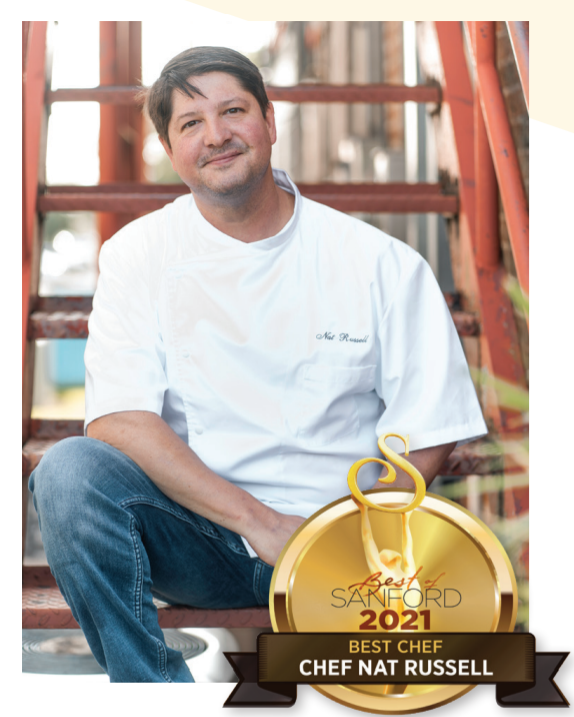 Photo by: ANDREW VAN TILBORGH, CHARMING SANFORD @ANDREWVT @CHARMINGSANFORD
The Tennessee Truffle is a unique dining experience featuring southern-fusion cuisine made with ingredients brought in from local farms. Owner and chef Nat Russell plans and develops his seasonal menu primarily based on the seasonal crops from local farmers. "I like to use items that are fresh from the farm as much as possible when available, not only to help out the farmers, but also because you can taste the difference when something has been pulled that morning. It also helps to cut down on gas emissions by purchasing locally. People see that we really care about what we are putting out. I strive for consistency and quality."
The restaurant is open three days a week and for good reason. Nat says, "I wanted more time to be with my family. My daughter is now eleven, and you only get one shot at watching your kids grow." He is open for private events Sunday through Wednesday, and you can schedule an event for as small as two people or as large as thirty-six people. Nat has a lot of experiencewhen it comes to helping his guests plan special events. He will meet with them ahead of time to gather information and then create a memorable event that is truly tailor made. One event consisted of dinner at The Tennessee Truffle followed by a guided golf-cart tour of downtown Sanford with a champagne toast at Lake Monroe and then back to the restaurant for a sumptuous dessert.
Make sure to check in frequently, because special events are on the horizon for holidays such as New Year's and Valentine's Day, where Nat will put his special spin on traditional fare. He has something unique in mind for this winter with a Christmas-themed event that will delight the senses: "I am planning it now.We will have Christmas carols, a ginger-scented mister, a cooling apparatus and hot cocoa." Guests will be offered a blindfold, so they can really take in the experience using only four of their senses.
While Nat has traveled around the country and has extensive experience with many types of cuisine, he credits his success to "sticking to his Tennessee roots." He also loves having a business in Sanford, because "all the restaurants here stick together."
Next time you're downtown, be sure to pop in, say hello and see what's fresh and new on the menu!
The Tennessee Truffle • 125 W. 1st Street • Sanford, FL 32771 • 407-942-3977 • thetennesseetruffle.com
Tuffy's Bottle Shop and Lounge – Owners Dan St. Pierre and Chris Halliday
By Samantha Montgomery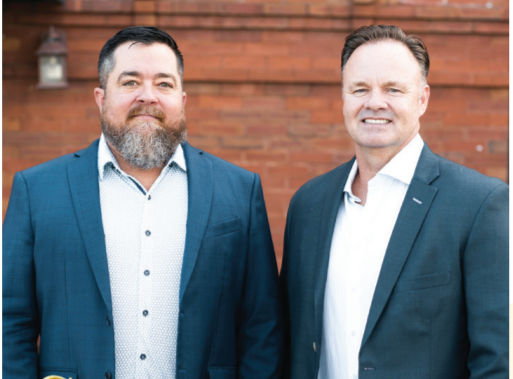 Photo by: ANDREW VAN TILBORGH, CHARMING SANFORD @ANDREWVT @CHARMINGSANFORD
Tuffy's Bottle Shop and Lounge is a unique and popular venue in Sanford that offers live music, cocktails, a beer garden with local craft beers, delicious food and events.They also make their own cider.
Dan approached Chris with the idea of opening a bar together. The two have known each other since childhood and it made for an easy transition into business partners. Dan says, "In the back of our minds we knew we wanted a music venue. There was no better time than during the downtime to start planning. We were able to keep everyone busy and employed." With the open space in the building, which dates back to 1928, they were able to progress in phases.
Featuring live music Thursday through Saturday and special events on weekdays, Chris says, "Bringing in musical guests is easy when you have a good reach in the local community." Dan adds, "We have a wide mix of music from local to national."
There is something for everyone at Tuffy's, and Chris and Dan wanted to make sure they had a place where everyone would feel comfortable. Chris says, "You can sit on the patio and have a nice, quiet dinner, or you can watch the game, belly up to the bar or just sit outside."
As far as the future goes, things are only looking brighter. Dan says, "We want to continue to grow the music and become the well-known music venue that provides quality music for our guests and continues to be the place where people want to be."
Dan and Chris enjoy having their business located in Sanford and like the tight-knit community that it offers. Chris says, "We work with other businesses to create festivals. That is what is so great about our community—being able to collaborate and bring the crowds. We don't want to lose sight of our community goals."
Be sure to check out their website www.tuffyscider.com often because they have several events coming up for the holidays that you won't want to miss. With a Monster Mash Bash sure to usher in Halloween and a huge New Year's party on the horizon, it looks as if this duo is just getting started.
Tuffy's Bottle Shop & Lounge • 200 S. Myrtle Avenue • Sanford, FL 32771 • 321-363-4647 • www.tuffyscider.com