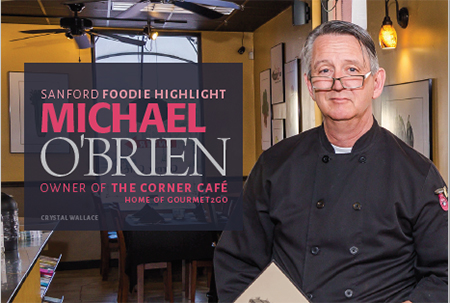 Unique, quality cuisine served in a clean & welcoming environment by staff that loves what they do.
WITH OVER 45 YEARS IN THE FOOD & BEVERAGE INDUSTRY, Chef Michael O'Brien Sr. is proud to be a 7th Generation Floridian. As the oldest son of a hard working single mother, Michael began his career at the tender age of 8, scrubbing pots in a family style Diner in Deland, Florida.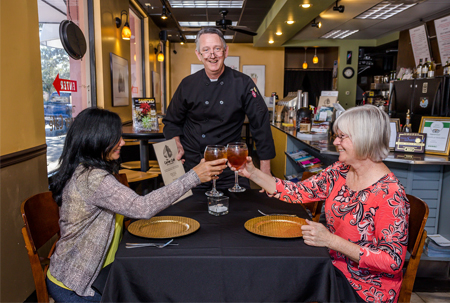 Working his way up through the ranks from busboy to short order cook to head waiter to chef, and finally, restaurant owner & caterer, it has been his lifelong goal to self-educate himself in every facet of the hospitality field.
With his partner, Ms. Jody Hill, Chef Michael opened The Corner Café – Home of Gourmet To Go in Historic Downtown Sanford on January 5th, 2009 at the very height of the Great Recession. Having done well in the lead-up to the financial crisis and with a deep and abiding love for this charming and wonderful community, they felt a tremendous desire to "give back" when things were at their worst.
Now, 7 years later, The Corner Café is a hub of activity for the entire community… and beyond! Hundreds of customers who not only live locally but come by plane, train, or automobile, enjoy the beautifully prepared, made from scratch food served in a warm, welcoming environment by folks who are deeply dedicated!
And that is not even the beginning of this establishment's commitment. With servant's hearts, both Chef Michael & Miss Jody dedicate tremendous time and treasure every year to civic and charitable causes. Working with both public and private entities, they have helped Historic Downtown Sanford become an example of revitalization for the entire region.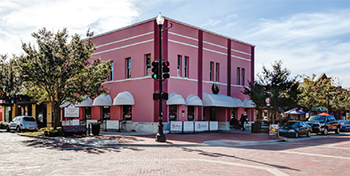 Moving ahead into the next several years, they plan to uphold the very principals that have kept this incredible gem in business. Unique, quality cuisine served in a clean and welcoming environment by staff that loves what they do. All of this is made even better by their desire to make Historic Downtown Sanford a better place to work, play & live every day!

Back of stage